History of Sheets Enterprises
As a General Contractor we were selected by the rotary club to rebuild their new headquarters at the Gordon House in Kelly Park. The Gordon House was not in good shape. It had been unceremoniously towed to its new home at the San Jose Historical Museum, a mere shadow of its former glory. Among the numerous items missing or damaged beyond repair were its window sashes. "No problem, we can still get new sashes" we thought. Reality soon smashed those thoughts to dust. The bay area at that time had only two wood sash suppliers, one in San Francisco and one in San Carlos, neither of which liked doing business in the south bay.
Instead of admitting defeat, we researched the tooling required to make sashes, acquired it and we've been making sashes ever since. At this time we are the only supplier of old-fashioned wood sash windows in the south bay area.
Our wood sashes are made from solid Sugar and Ponderosa Pine (same as the originals) using true mortise and tennon construction and true divided lights. Other manufacturers make their wood sashes from finger-jointed pine and often use only the glass panel and silicone sealant to hold the sash together. We offer a line of single glaze window sashes that match the wood sashes made at the turn of the century. In addition, we also make dual pane sashes to fit into your existing wood window jambs with a minimum of difference in appearance.
Sheets also sells complete windows (pine window jamb, redwood sill, pine sashes, glass & latch) in either casement style, double and single hung and picture windows.
Window installation is also available.
CUSTOM WINDOWS
CUSTOM DOORS
CUSTOM CABINETS & MILL WORK
"Old World Craftmanship"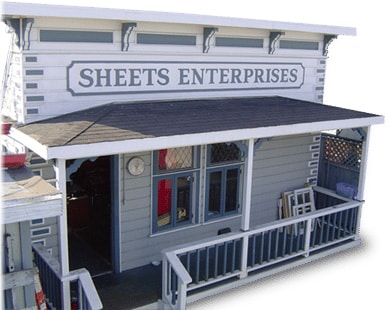 Get a quote for custom built windows & doors